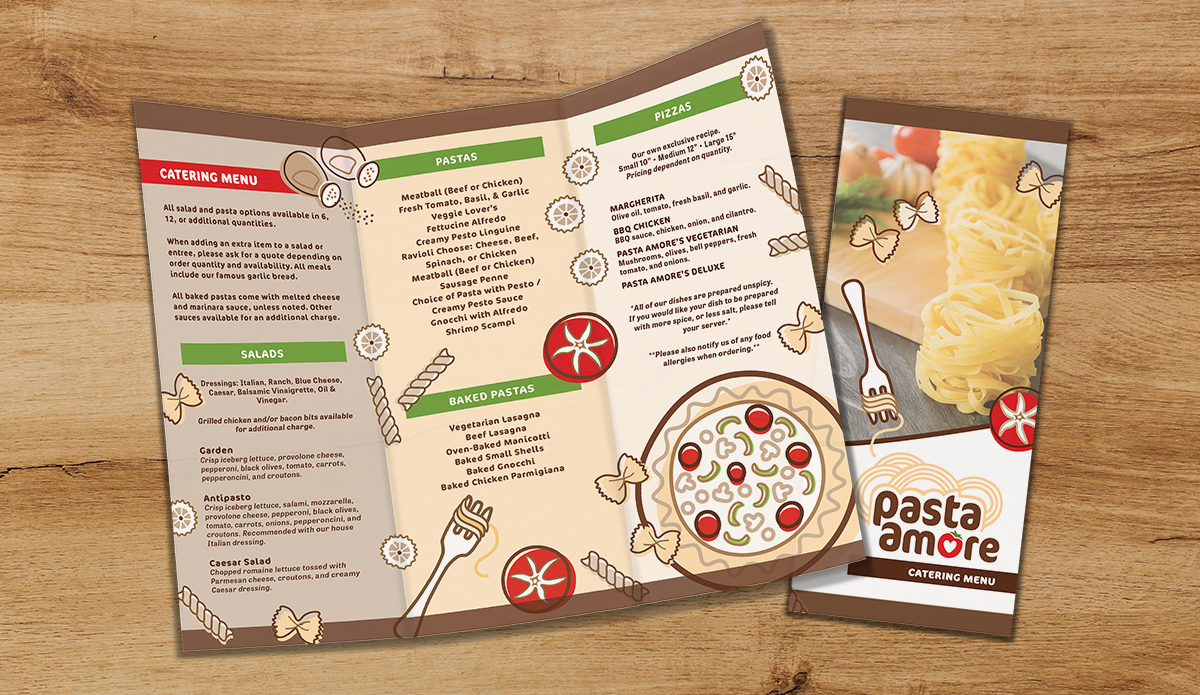 SKILLS: Adobe InDesign, Adobe Illustrator, Adobe Photoshop
FOCUS: Typography, Design
CLIENT: COM232 Desktop Publishing
CONTACT: Professor Curtis Loftis
PROJECT DATE: 2022
PROJECT URL: n/a
PROJECT BACKGROUND
PASTA AMORE (PRINT)
FAMILY STYLE ITALIAN USING WHOLE INGREDIENTS
Pasta Amore's goal is to provide a warm atmosphere for the entire family. A place that is fun & inviting, where anyone can come share the traditional cuisines of Italy.
Pasta Amore combines the cooking traditions & ingredients of Italy with creativity, providing a modern twist on timeless classics. They want to grow & learn along with their customers. In doing so, they aim to provide an atmosphere that enables this growth & fuels the passion that lives within the essence of the brand.
The approach of Pasta Amore is to develop their brand with the understanding of both the Italian culture & consumer insights. Within their vision always lives the promise of inspiring creativity, conversation, & quality.
Pasta Amore approved a new logo with updated branding & requested print-ready PDF designs for a table tent special, an adaptable menu redesign, & a catering tri-fold brochure.
PROJECT SPECIFICATIONS